PV SOLAR PANEL SUPORTS AND ATTACHMENTS
Our wind engineering services optimize the safety and efficiency of your solar panel installations. We provide wind load calculations for solar panel mounts and attachments, ensuring your solar system is designed to withstand harsh weather conditions while maintaining peak performance.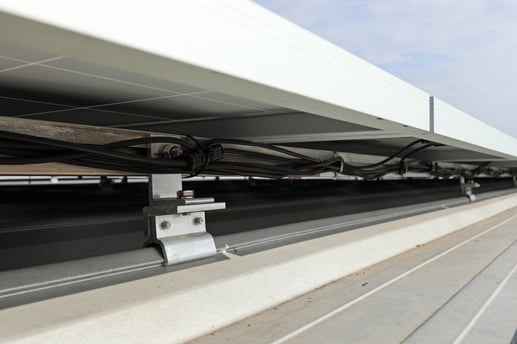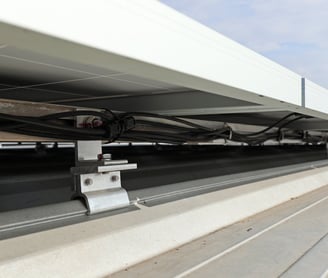 Site-Specific Wind Load Calculations by Licensed PEs: We provide customized wind load calculations tailored to your project location, ensuring that our wind-resistant support system recommendations are up-to-code and meet the requirements for your specific state or region.

Optimal Product Specification: We analyze various factors, such as use, functionality, and weather conditions, to recommend the most appropriate products and designs for your project. Our recommendations focus on durability, stability, and weather resistance to protect your rooftop equipment and roof structure from high winds and extreme weather.

Versatile & Adaptable Designs: Our wind engineering calculations accommodate single or multiple PV solar Systems of any height or width and can be implemented on flat or sloped roofs. We engineer our designs with adjustable height and spacing options to perfectly align with your project requirements, ensuring optimal load distribution and thermal expansion.

Rooftop Integrity Preservation: Our support system recommendations prioritize maintaining the integrity of your roof. We focus on minimizing punctures in roof membranes during the installation process and specifying products that evenly distribute weight, reducing the risk of sagging, cracking, or tearing due to high winds or other environmental factors.

Compliance with Building Codes and OSHA Guidelines: Our wind engineering services ensure that your PV solar support systems adhere to local building codes and OSHA guidelines, keeping your building compliant and your maintenance professionals safe while working on the roof.
Trust WindCalculations.com for your rooftop equipment wind engineering calculations, and rest assured that you are specifying the most suitable products for your project's unique requirements. Our expertise in wind-resistant design will help you safeguard your PV solar equipment and ensure compliance with state and local building codes. Explore our portfolio to see how our wind engineering capabilities can strengthen your PV solar systems and keep your building secure in high wind conditions.
We offer wind load analysis for cable tray supports, ensuring that your electrical and communication systems remain secure and functional during high-wind events. Our calculations help you select the most suitable cable tray support system to protect your infrastructure and minimize potential damage.